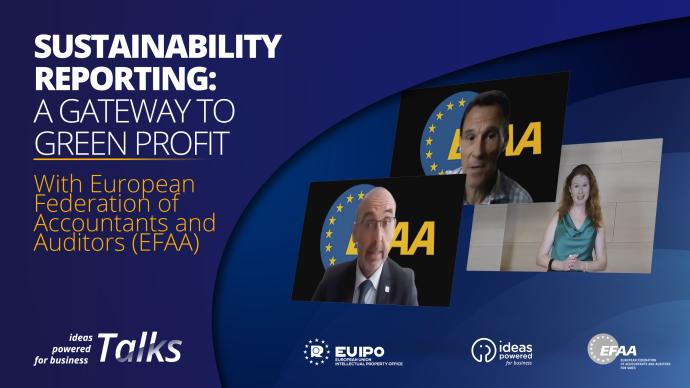 Benefits of IP
The latest episode of the Ideas Powered for business Talks provides insights on the importance of the creation of sustainability reports for businesses.
We are pleased to announce the release of the latest episode of the Ideas Powered for business Talks!
The European Federation of Accountants and Auditors for small - and medium-sized enterprises (EFAA for SMEs), an Ideas Powered for business network member, helps EU SMEs understand the importance of intellectual property (IP), focusing on sustainability reporting and 'green' trade marks.
In this brief video, experts from EFAA explain that sustainability reports are key for businesses that seek to showcase their environmental and social impact. Moreover, these reports attract customers and investors too, given that they are a monetisable resource. Within the same context, accountants also embrace intellectual property, and are in certain cases a first source of basic IP advice. It is no wonder that the latest Green EU trade marks – 2022 update shows an increase of registered 'green' trade marks over recent years, an increase that is set to continue.
EFAA experts also highlight that EU rules are changing fast and that sustainability reporting will, in the near future, become mandatory for those businesses (large EU companies and SMEs) that have to report on their value chain.
Watch the short video, produced in collaboration with EFAA and find out all you need to know about sustainability reporting. Make sure you activate the subtitles in your language of choice!
All the Ideas Powered for business Talks are now available on the EUIPO YouTube channel. Please share them on your social media to reach out to small businesses and start-ups who may find them useful!