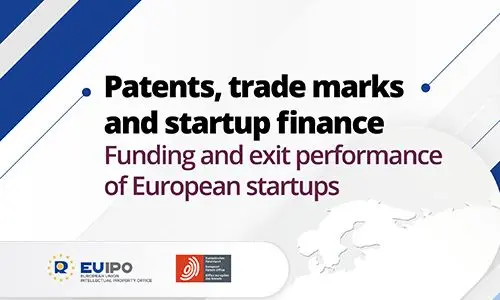 Benefits of IP
This study examines the role of intellectual property (IP) rights - specifically patents and trade marks - in facilitating access to finance for European startups.
A new joint study by the European Union Intellectual Property Office (EUIPO) and the European Patent Office (EPO)  underscores that European startups benefit substantially from intellectual property (IP) rights. The report shows, on average, startups with early trade mark and patent applications are 10.2 times more likely to secure funding.
Biotechnology the most IP intensive sector
Biotechnology leads as the most IP-intensive sector, with 65% of startups utilising patents or trade marks. Other sectors actively pursuing IPs include science and engineering, health care, and manufacturing.
Finnish and French startups lead the way in the use of IP rights
Finnish and French startups are ahead of the pack, with 42% each holding an IP filing. Startups from Germany, Austria, Italy, Norway, Sweden, Denmark, Switzerland, and the Czech Republic also engage actively in IP filings.
The importance of intangible assets for startups
Holding European patents and trade marks presents a clear advantage, increasing the chances of obtaining early-stage funding. Notably, "deep tech" startups, facing significant investment and longer development times, can especially benefit from these IPs to attract significant investment.
"Intangible assets, primarily in the form of intellectual property, are pivotal for businesses, more so for startups reliant predominantly on their intellectual capital," remarked João Negrão, EUIPO's Executive Director.
As startups evolve, their engagement with IP intensifies. The report indicates a clear rise in IP usage from seed to late-stage funding rounds.

Quick links
Executive summary: Patents, trade marks and startup finance
Full report: Patents, trade marks and startup finance
*Did you know that startups and other types of SMEs can receive financial support to protect their IP rights through the Ideas Powered for Business SME Fund?
*Find our more about the SME Fund.
The article was first published here.