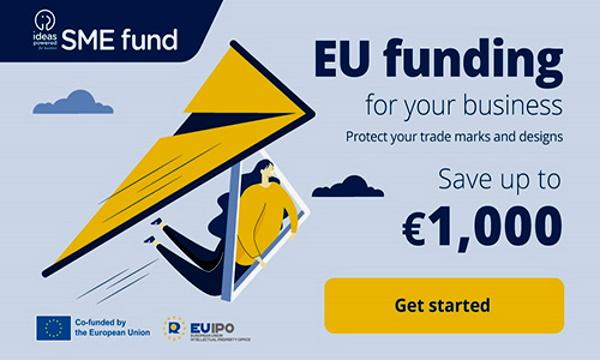 Protecting your ideas
The new SME Fund 2023 is now launched.
This is the third year of the Ideas Powered for business SME Fund, and it promises to be bigger and better than ever before!
What is the SME Fund?
The SME Fund is a grant scheme designed to offer financial support to EU SMEs (small and medium-sized enterprises) to protect their intellectual property rights (IPRs). The Fund is a European Commission initiative implemented by the EUIPO in collaboration with European national and regional IP Offices. It aims to encourage SMEs to protect their IP, and avoid having their unique ideas used without permission. Financial support is offered through the SME Fund by way of IP vouchers, which cover various different fees, services and IP rights, such as trade marks and designs . So far, this initiative has received applications from over 35 000 SMEs since its launch in 2021, with a 94 % user satisfaction rate. Furthermore, according to the 2022 SME scoreboard, 93 % of SMEs with registered IPRs have seen a positive impact.
Applicants must be established in the EU and meet the criteria of the official EU SME definition as defined in the EU Recommendation (enterprises that employ less than 250 people, including self-employed people, partnerships/associations and family businesses, with a limited annual turnover/annual balance sheet – for more details see here).
What is new in the SME Fund 2023?
On 23 January 2023, two vouchers will be open for applications: Voucher 1 IP pre-diagnostic services (IP Scan) and Voucher 2 Trade Marks and Designs. In the SME Fund 2022 these both fell under Voucher 1. As usual, beneficiaries will receive up to a 90 % reimbursement:
Voucher 1: 90 % off IP Scan services on expert advice and guidance for your IP strategy saving up to EUR 1 350
Voucher 2: 75 % off the basic application fees for trade mark and design at EU level, national and regional level, 50 % off the basic application fees for trade mark and design outside the EU, saving up to EUR 1 000
The Fund will allocate a total of EUR 27.1 million in grants throughout the year. Each SME may be reimbursed up to a maximum of EUR 2 350. Stay up to date with all the SME fund 2023 related news by subscribing to our newsletter.
Please note, the funds are offered on a first come, first served basis.