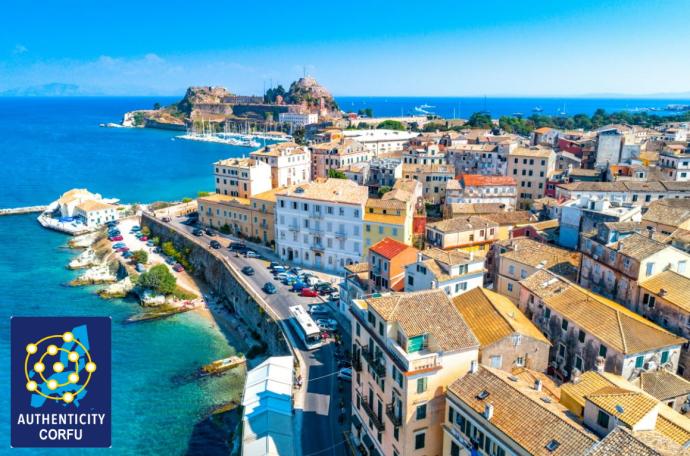 Benefits of IP
On 7 December 2022 the municipality of Corfu became the third certified Greek 'Authenticity'.
Following the recent re-certification of Thessaloniki and last year's certification of Mykonos, on 7 December 2022 the Municipality of Corfu became the third Greek Authenticity to join the growing European Network of Authenticities.
A series of IP-related awareness-raising activities will take place locally over the next two years in the newly certified Authenticity, following a Memorandum of Understanding signed between the Hellenic Industrial Property Organisation (OBI) and the Municipality of Corfu, in cooperation with Corfu Trade Association.
Through this European Cooperation project, the OBI, in cooperation with the municipality of Corfu, will aim to combat counterfeiting and simultaneously raise awareness of both the value of intellectual property (IP), and the damage caused by counterfeiting on a local level.
Located in a strategic position at the entrance of the Adriatic Sea, Corfu (Kerkyra) is the capital city of the Region of Ionian islands. The island is a major Mediterranean fortified port city and a very popular tourist destination, combining history, architecture (the entire old city is a member of the UNESCO World Heritage Collection), exceptional landscape, beaches, and a special local cuisine.
It has an airport and port, connecting Corfu with most of the major capitals, serving numerous tourists and being an important cruise destination.
The market of Corfu is providing various opportunities for luxury buys, while its port is the main entrance for goods, passengers, cruises, and yachts. Moreover, the city hosts the Ionian University which offers a variety of university degrees to thousands of students from all over Greece.
The Authenticities Project
One of the main goals of the Authenticities initiative is to create a true European Network of cities across the EU. Within this network, best practices and ideas can be shared and specific activities at local level are carried out to raise awareness on the value of intellectual property and the damage caused by fake products.
There are currently eleven European cities that are part of the network of Authenticities (nine cities with ongoing certification). These cities are: Thessaloniki, Mykonos and Corfu, in Greece, Sofia (certification expired), Plovdiv (certification expired), Targovishte and Burgas in Bulgaria, Banská Bystrica in Slovakia, Madrid and Zaragoza in Spain and Lisbon in Portugal. Various other EU cities are in the process of joining the network – stay tuned!
Article first published here.